About Us

T

he quality has been preserved
since 1949.

In 1949, the beginning was the production of vehicle seats. After that, in 1956, the "France Bed", the first split-type sofa bed in Japan at that time, was released. This was the beginning of FRANCE BED as a bed pioneer. For more than 70 years since then, FRANCE BED has been producing advanced products as a leading Japanese manufacturer, focusing on quality.
33 million
pieces

Cumulative number
of beds sold since
its establishment

396,433
people

Cumulative number
of care rental users

5,500
sheets

Number of
bed sheets to be
washed a day
*All information as of September 2017
W

ith overwhelming track record in Japan, we are expanding overseas.

FRANCE BED has sold more than 33 million beds in Japan so far. From furniture to medical care and nursing, we have manufactured and sold products and provided services related to the lives of various people. In addition to Japan, we have expanded our track record overseas by exporting to East Asia and Southeast Asian countries such as China, Taiwan, Hong Kong, South Korea, Thailand, and Singapore, and participating at major international exhibitions.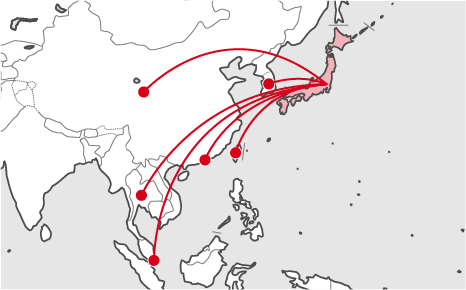 Major achievements overseas
In
2016

Started a rental business for nursing care beds in South Korea.
In
2019

Started rental business in collaboration with Hong Kong government organization "HKCSS".
In
2019

Sold the auto turning bed to a nursing facility in Singapore.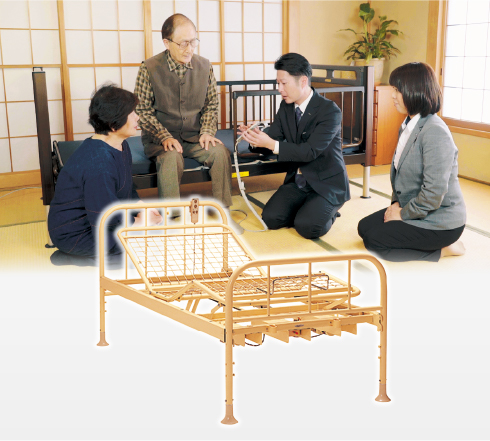 F

RANCE BED is a pioneer of welfare equipment rental.

FRANCE BED was also the first company to start welfare equipment rental in Japan. The trigger was a telephone call from a customer who had no need for the medical bed after three months of the purchase. Renting only for the necessary period of time is the obvious now. But FRANCE BED started renting welfare equipment more than 20 years before the beginning of the long-term care insurance system, for the first time in Japan.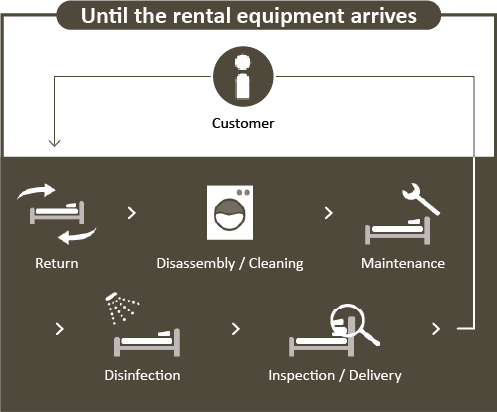 N

ursing care rental that delivers a high standard of products with a perfect system.

Based on the abundant knowledge and experience of nursing care pioneers, we have built a complete delivery and maintenance service system. Our specialized staff responds promptly from product selection consultation to delivery, collection, and after-sales service. In addition, in order to use all our products with peace of mind, we have established our own in-house standard for cleaning, disinfecting, and storing equipment. We, FRANCE BED provide high-quality products and service everyday with pride.