4 positions can be taken with
one button operation.

"Sleeping position"
The position where you can take a good rest
from the bed's original "sleeping" posture.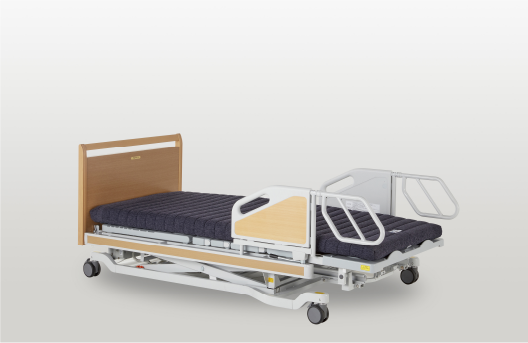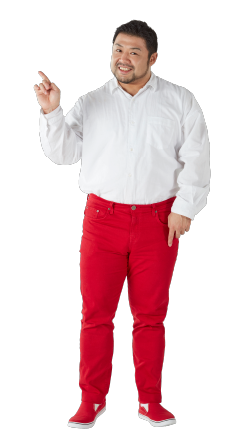 [What you can do in sleeping position]
·Back raising function that can be adjusted steplessly*
Effective in reducing aspiration risk,
relieving gastric juice return, and controlling blood pressure.
*Steplessly adjustable from 0° to 75°

"Reclining position"
A position where you can take a relaxed posture
by adjusting your favorite angle by raising your back and legs.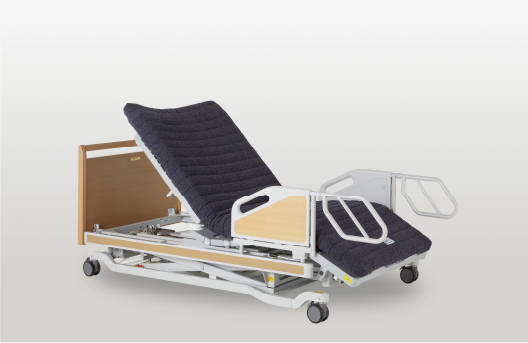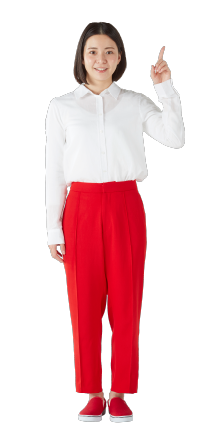 [What you can do in reclining position]
·Expansion of visibility
By raising your back, you can change your field of view
so that you can watch TV and read books in a comfortable
position while on the bed.
Side up function

Stable rise with side up function.

Both sides of the back platform wrap your body in conjunction with raising your back. Maintains a stable sitting position, preventing falls and pinching of upper limbs on side rails, etc.

"Sitting position"
A position where even if it is difficult to take a sitting position
with the soles on the floor, a stable sitting posture can be achieved.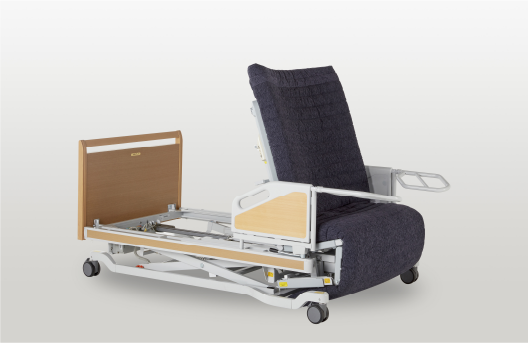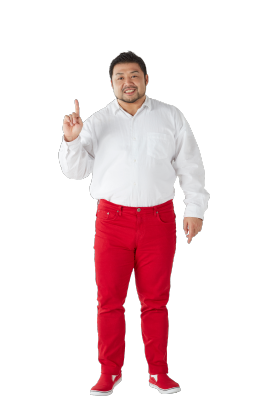 [What you can do in sitting position]
·Any person of any height can take a sitting posture
by putting the entire sole of the feet on the floor.
Can be adjusted according to the height*.
*Recommended for persons over
140 cm tall.
·Anyone can secure a stable sitting position.
Adjustable backrest and seat angle*.
*To adjust the seat angle, use the back button and leg button.
·You can eat in sitting position, reducing the risk of aspiration.
Dedicated fixed grip
"Kurutto Support".

Rest assured that it comes with a special
support for supporting the body.

"Standing position"
Position that supports rising and transferring with the lift-up function.
A relaxing position on the bed.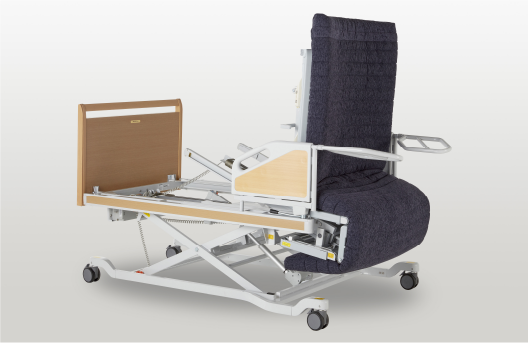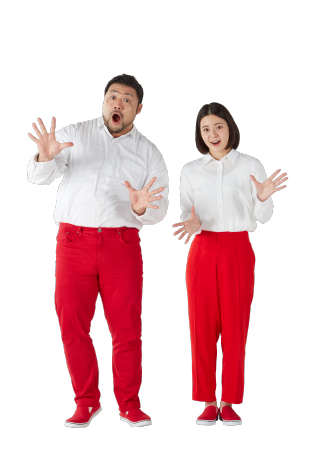 [What you can do in standing position]
·The seat surface (rear seat) is lifted up*
*Lift up from 35 to 75 cm
The seat surface and backrest are tilted so that the hip is lifted
as it is to support standing up and transferring.
Those who are worried about tilting can lift up
without tilting.
Those who can stand up by themselves.
·To walk by yourself
Those who can stand up on their own can stand up using the special fixed grip
"Kurutto Support" and walk using handrails and walkers.
Those who have difficulty standing up on their own,
those who need assistance with transfer.
·Reduction of caregiver burden
It reduces the burden on the body when guiding and holding.